1. Person in New
TS Tirumurti Appointed India's Permanent Representative To United Nations
TS Tirumurti is a 1985-batch Indian Foreign Service officer
At present, he is holding the key position of Secretary, Economic Relations, at the MEA headquarters.
He has succeeded the previous Permanent Representative, Syed Akbaruddin.
Quick Fact: Out of the world's 195 countries, 193 are member countries in the United Nations. The remaining two countries of the world are observer states.
2. India and the World
India placed on the US Priority Watch List 
US has placed 10 countries including India and China in its list.
This has been done due to its concern that the countries have shown lack of measurable improvements in intellectual property framework.
According to the US, poor IP law enforcement in India makes it difficult for the US companies to receive, maintain and enforce patents in the country.
Quick Facts: Intellectual property rights include patents, geographic indications, trademarks, copyrights, etc.
3. Science and technology
Year of Awareness on Science and Health launched by DST
Year of Awareness on Science and Health (YASH) has been launched by Department of Science and Technology.
This aims to minimise COVID-19 spread by engaging citizens and increase their awareness about the disease.
To do this, the programme will provide health, science and risk communication software, audio-visual, folk performances, digital platforms, etc.

Quick Fact: The programme will be implemented by National Council for Science and Technology Communication (NCSTC)
4. Art and Culture
Manipur Black Rice, Gorakhpur Terracotta and Kovilpatti Kadalai Mittai get GI tags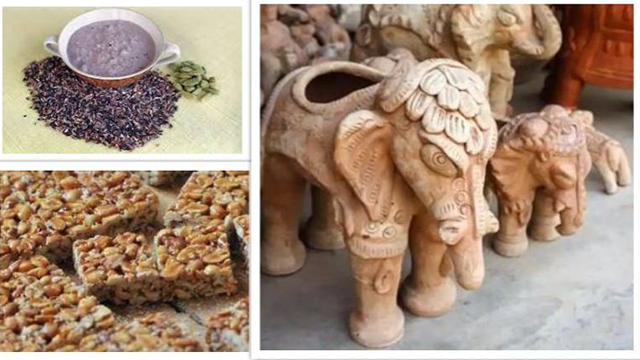 Black rice of Manipur is also known as Chak-Hao. It has high nutritive value and is deep black in colour due to high concentration of anthocyanin.
Kadalai Mittai is a peanut candy made in southern parts of Tamil Nadu, made of peanut and jaggery. Its speciality is the unique flavour derived from water used in the recipe, which is derived only from the river Thamirabarani.
Gorakhpur terracotta artisans create both decorative as well as utilitarian forms. Its characteristic color is derived from the local soil of the region.
5. Defence and Security
2 new operational commands for ITBP at Chandigarh and Guwahati
Cabinet has approved a full cadre review for the Indo-Tibetan Border Police (ITBP)
Two new operational commands for ITBP will be raised
The Western command will be based at Chandigarh and Eastern command at Guwahati, Assam.

Quick Fact: ITBP guards Line of Actual Control (LAC) with China.
6. Miscellaneous
AYURAKSHA Programme organized by Delhi Police
In Ayuraksha programme, Delhi Police will maintain the health of the COVID-19 front line warriors including police personnel with Ayurveda.
Time tested Ayurveda immunity measures like Chyawanprash will be adopted
This is a joint venture of All India Institute of Ayurveda (AIIA) and Delhi Police
Quick Fact: All India Institute of Ayurveda (AIIA) functions under the Ministry of AYUSH (Ayurveda, Yoga, Unani, Siddha and Homeopathy)
7. Defence and Security
Indian Army starts first and biggest mountain combat exercise 'Him Vijay' in Arunachal Pradesh
The exercise will build and test the mobility, coordination and communication of the Army troops in difficult terrain
The exercise aims to validate the operational concepts used for Integrated Battle Groups (IBG's).
IBGs are groups of 5-6 units both on the Western and Northern borders which have been created for quicker and formidable launch of attack on enemy.

Quick Fact: The boundary between India and China is called Line of Actual Control (LAC), of which 1288km lies between Arunachal Pradesh and Tibet.
8. Science and Technology
ATULYA: Microwave sterilizer to disintegrate COVID-19 virus

Defence Institute of Advanced Technology, operating under DRDO, has developed microwave sterilizer called "ATULYA"
Objects can be kept inside the microwave to sterilize viruses on their surface.
It uses differential heating between 560 to 600 degrees Celsius to disintegrate the virus.
Quick Fact: Differential Heating creates two different temperatures to disintegrate the virus.