1.Miscellaneous
Coca-Cola, Pepsi and Nestle named top plastic polluters for third year in a row
Coca-Cola, PepsiCo and Nestle have been accused of zero progress on reducing plastic waste after being named world's top plastic polluter for the third year in a row.
Coca-Cola was ranked the world's No 1 plastic polluter by 'Break Free From Plastic' in its annual audit where Coca-Cola branding was found on 13,834 pieces of plastic followed by PepsiCo branding on 5,155 and Nestle branding on 8,633.
The annual audit was carried out by 15,000 volunteers around the world in which they collected 346,494 pieces of plastic waste, 63% of which was marked by consumer brands.
Quick Fact: Asa Griggs Candler is the founder of Coca-Cola.
2.Miscellaneous
Breakdancing gets Olympic status to debut at Paris Games in 2024
Breakdancing,the urban street dance form created in the Bronx will become a gold-medal sport starting in the 2024 Olympic Games in Paris.
The International Olympic Committee (IOC) introduced the dance form to the Summer Olympics which would be officially called "Breaking" to attract younger audiences and be more gender biased.
The 2024 "Breaking" competition will be held at Place de la Concorde in downtown Paris.
Quick Fact: The motto of the 2024 Summer Olympics is 'Made for sharing'.
3.India and the World
Invest India wins 2020 United Nations Investment Promotion Awards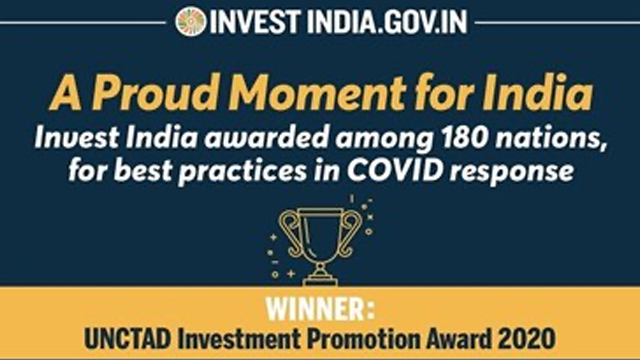 UNCTAD has declared 'Invest India' as winner of 2020 United Nations Investment Promotion Award among 180 agencies around the world.
Invest India, the National Investment Promotion Agency of India was presented the award to celebrate and highlight its good practises followed as a response to COVID-19 pandemic.
The United Nations Investment Promotion Award is the most coveted award for Investment Promotion Agencies and it identifies best practices globally.
Quick Fact: The full form of UNCTAD is 'United Nations Conference on Trade and Development'
4.National Affairs
ICAR wins FAO's 2020 King Bhumibol World Soil Day Award
Indian Council of Agriculture Research (ICAR) has won the prestigious International King Bhumibol World Soil Day Award (WSDA) 2020 conferred by the Food and Agriculture Organisation (FAO).
The prestigious global award was conferred to ICAR for its commitment to raising awareness on the importance of healthy soils and addressing soil erosion under the motto 'Stop soil erosion,save our future' which was taken in 2019.
The Global Soil Partnership (GSP) supported by the KIngdom of Thailand gives the WSDA which comes in the form of a medal, USD 15,000 cheque and a trip to Thailand.
Quick Fact: The Food and Agriculture Organisation (FAO) is headquartered in Rome, Italy and its motto is "Let there be bread".
5.Economy
ICICI Bank launches iMobile Pay offering Payments and Banking services for all
ICICI Bank launches the iMobile Pay app enabling customers of all banks to download and experience the quick transactions backed by best-in-class security features.
The payment app allows customers to scan a QR code of any payments app and send money to any UPI ID, bank account,self instantly without any cost.
The app also allows customers to open an ICICI Banks Savings account digitally, apply for a credit card at zero joining fee and get instant approval for home and personal loans.
Quick Fact: Sandeep Bakhshi is the MD & CEO of Industrial Credit and Investment Corporation of India (ICICI) Bank.
6.Economy
Kotak Mutual Fund launches India's First International REIT Fund of Funds
Kotak Mahindra Asset Management Company (Kotak Mutual Fund) has rolled out India's first diversified REIT (Real Estate Invest Trust) named Kotak International REIT Fund of Funds.
Kotak International Fund of Funds offers an opportunity for domestic investors to invest and benefit from growth in the real estate market without actually owning the entire asset.
The scheme will invest in units of 'SMAM Asia REIT Sub Trust Fund', one of the largest Asia Pacific REIT funds investing in listed REITs in the Asia Pacific region.
Quick Fact: Nilesh Shah is the MD & CEO of Kotak Mahindra Asset Management Company,
7.Person in News
Indian-origin Anil Soni appointed as CEO of WHO Foundation
World Health Organisation (WHO) has appointed Indian-origin Anil Soni as the Chief Executive Officer (CEO) for the WHO Foundation.
WHO Director General Tedros Adhanom Ghebreyesus described Soni as a proven innovator in global health who spent two decades in service of communities affected by HIV/AIDS and other infectious diseases.
Soni will assume the role on January 1,2020 and will accelerate the WHO's work to invest in innovative, evidence-based initiatives that support WHO's mission of ensuring healthy lives and promoting well-being for all.
Quick Fact: WHO was founded on April 7, 1948 and is headquartered in Geneva,Switzerland.
8.Economy
Cisco agrees to buy UK cloud company
Cisco Systems Inc. has agreed to buy U.K. customer service software maker 'IMImobile Plc' in a deal valued at about 543 million pounds.
The agreement aims to enhance tools to help companies keep track of and improvement of interaction with users.
The deal is Cisco's largest U.K. acquisition in about three years and it seeks to push further into automation to improve the way their customers reach out to their end-users and to make their services more effective.
Quick Fact: 'Cisco Systems' was founded in 1984 by Leonard Bosack and Sandy Lerner.