1) Sports
Manish  Kaushik wins gold at Boxam International Tournament
Manish Kaushik has clinched gold in Boxing at the 35th edition of Boxam International Tournament with 10 medals in Castellon, Spain.
He defeated Denmark's Nikolai Terteryan with a split 3-2 decision in men's 63Kg.
Bronze medalist Vikas Krishan went down fighting 4-1 against Ndiaye Sissokho to settle for a silver medal in men's 69 kg.
Quick fact: The Union Minister of Youth Affairs and Sports is Kiren Rijiju
2) Government Schemes
Textiles Ministry & Agriculture Ministry signs MoU for sericulture activities.
The Ministry of Textiles and Ministry of Agriculture today signed a Memorandum of Understanding to amplify sericulture activities in the country.
The MoU will focus on establishing tree-based agroforestry models in sericulture and exploring possibilities of activities through Krishi Vigyan Kendras.
It will enhance training, boost technology and create a sustainable livelihood for silk farmers or rearers.
Quick Fact: The Union Textile Minister is Smriti Irani
3) Sports
Bajrang Punia wins Gold at World Ranking Series in Rome
World Championship bronze medalist Bajrang Punia won a gold medal at the Matteo Pallicone ranking series held in Rome, Italy.
He defeated Mongolia's Tulga Tumur by 2-2 in the 65 kg freestyle final event.
It was his successive gold medal, he won the previous one in the 2020 competition.
Quick Fact: Rome is the capital of Italy
4) Government Scheme
UP Govt. launches second phase of Mission Shakti
The UP government has launched the 2nd phase of Mission Shakti to encourage women empowerment on International women's day.
Under this, CM inaugurated women special Police station in 18 districts along with pink booths and pink toilets
UP govt. Has launched 'Mission Shakti' program on 17th October 2020 for the security of women.
Quick Fact: The Chief Minister of Uttar Pradesh is Yogi Adityanath
5) Government Scheme
WCD Ministry signs MoU with Invest India to enhance cooperation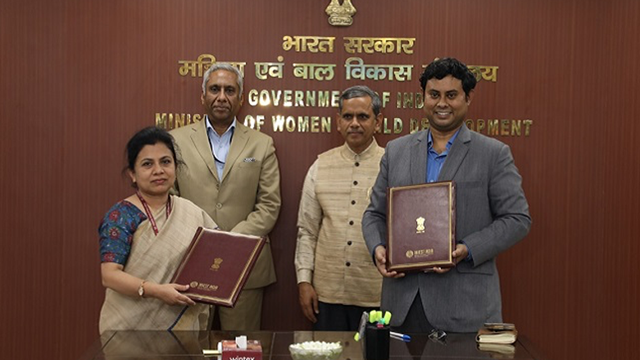 The Union Ministry of Women and Child Development (WCD) has signed an agreement with Invest India in New Delhi to enhance cooperation.
The goal is to enhance cooperation in the thematic areas of Nutrition, Child Protection and Development, Women Empowerment, and convergent capacity building in mission mode.
DRISHTI under Invest India will conduct input and output analysis research, and other research as per requirement including coordinating with research agencies.
Quick Fact: The Union Minister of Women and Child Development is Smriti Zubin Irani
6) Art and Culture
Minister of Culture inaugurates Women's Art Exhibition
Minister of Culture and Tourism Prahlad Singh Patel has inaugurated the All-Women's Art Exhibition titled "Akshya Patra" at Rabindra Bhavan Galleries in New Delhi on the occasion of International Women's Day.
The exhibition has been organised by Lalit Kala Akademi for providing an opportunity to all female artists around India and World.
It will continue from 8th March till 20th March and showcase more than 250 artworks from over 12 countries.
Quick Fact: The Union Minister of Culture and Tourism Prahlad Singh Patel
7) National Affairs
President inaugurates conservation work at Singorgarh Fort 
President of India, Ram Nath Kovind has laid down the foundation stone for the conservation works of Singorgarh Fort in Singrampur village in Madhya Pradesh.
He also inaugurated a newly carved Jabalpur Circle of Archaeological Survey of India
President also addresses the State Level Tribal conference "Janjatiya Sammelan" in Damoh.
Quick Fact: The capital of Madhya Pradesh is Bhopal
8) Sports
PV Sindhu wins silver in BWF Swiss Open Super 300
India's ace shuttler PV Sindhu has won a silver medal in the BWF Swiss Open Super 300 in the final of the women's singles event held at Basel, Switzerland.
She ranks at number 7 in the world and lost to world number 3 Carolina Marin who is an Olympic champion.
Pusarla Venkata Sindhu hails from Hyderabad has won Gold in the 2019 World Championships.
Quick Fact: The Capital of Switzerland is Bern