1.Defence and Security
Submarine Cable connectivity to Andaman & Nicobar Islands launched
Andaman & Nicobar Islands will be connected to mainland India through a submarine Optical Fibre Cable (OFC)
The OFC is 2300 km long
The OFC will help Andaman and Nicobar get cheaper and better connectivity, and also play an instrumental role under India's new trade strategy for Indo-Pacific region.
Quick Fact: Admiral D K Joshi is the Lieutenant Governor of Andaman and Nicobar Island.
2.India and the World
War Memorial for Indian soldiers to be constructed in Bangladesh
The memorial will be a monument dedicated to the Indian soldiers who died in 1971 during Bangladesh's struggle for independence from Pakistan.
It will be located in Ashuganj of Brahmanbaria district, bordering Tripura
3.Economy
Atmanirbhar Bharat Saptah launched 
Defence Minister Rajnath Singh has launched the 'Atmanirbhar Bharat Saptah'
It will give emphasis to India's aim of shifting to local manufacturing, Make in India and also Atmanirbhar Bharat
The main idea behind this is event is to emphasize the importance of domestic defence production in the country.
4.Environment
77 new butterfly species found in Maharashtra
77 new species of butterflies were discovered in the ecologically sensitive forest of Matheran hill station
The discovery was made by Bombay Natural History Society
This brings the total number of butterfly species in the forest up to 140.
Quick Fact:  Bombay Natural History Society was founded in 1883
5.Environment
Pathogens listed Critical by World Health Organization found in River Yamuna
WHO had published a list of antibiotic resistant priority pathogens that pose the greatest threat to human lives in 2017
As per studies, some of these have been found in Yamuna river
Sewage is the main source of their entry into the river
Quick Fact: WHO list of 'Priority Pathogens' contains a list of antibiotic resistant pathogens for which drugs are urgently needed.
6.Geography
Mount Sinabung Volcano of Indonesia erupts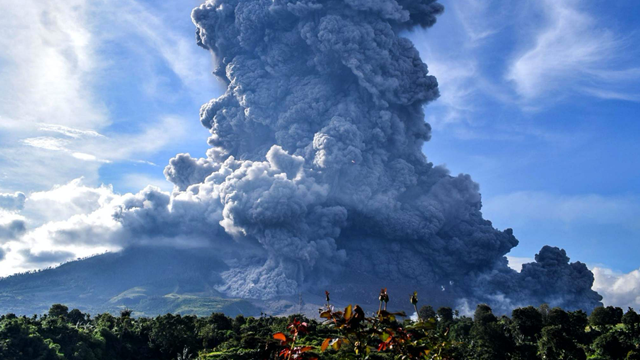 Mount Sinabung of Indonesia was dormant for 400 years.
It then erupted in 2010, 2014 and now, in 2020.
It is the most active volcano in Mount Sinaburg and is located in the Pacific Ring of Fire.
Quick Fact: Mount Sinabung is located in the North Sumatra Island of Indonesia
7.Environment
Study Results: Huge amount of Carbon Dioxide released by Himalayan Geothermal Springs
Wadia Institute of Himalayan Geology, under the Department of Science and Technology, has been investigating gas emissions in the springs of Himalayas
The carbon dioxide is produced due to metamorphic decarbonation of carbonate rocks, magmatism and oxidation of graphite
Quick Fact: There are more than 600 Geothermal springs in the Himalayan region