1.Sports
Max Verstappen wins 70th Anniversary Grand Prix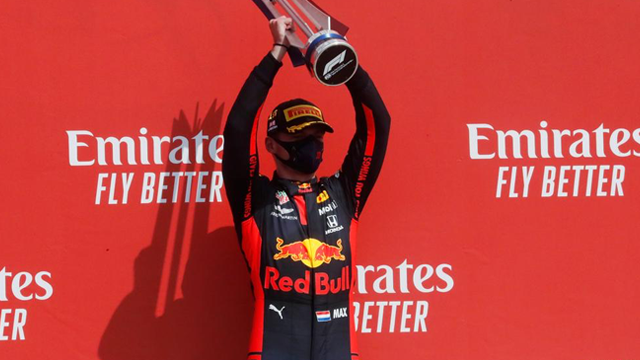 Max Verstappen, the Belgian-Dutch Grand Prix driver from Red Bull, got the first position in Emirates Formula 1 70th Anniversary Grand Prix
The Grand Prix was held in Silverstone, United Kingdom
Lewis Hamilton and Valtteri Bottas of Mercedes cam in the second and third place, respectively.
2.Defence and Security
Indian Armed Forces revive Project Cheetah
The project is related to the upgradation of around 90 Heron drones.
This upgradation would help the Indian Army operate the drones from a distance and control them through satellite communication system
This move is significant in the light of border tensions with China.
Quick Fact: The Heron Unmanned Aerial Vehicle, is a medium-altitude UAV, was made in Israel
3.Defence and Security
India test fires first Private Upper Stage Rocket Engine
The Rocket has been developed by the aerospace startup Skyroot
After the successful test firing, it has become the first Indian private company to demonstrate the capability of homegrown rocket engine
The 3D printed rocket engine was named after Nobel Laureate Sir C V Raman
4.Person in News
Indian-origin Kamala Harris nominated for US vice-presidentship
Presidential Candidate Joe Biden has chosen Kamala Harris to run for Vice President.
This makes Kamala Harris the first black woman and the first person of Indian origin to be nominated for the national office of a majority party in the US
Kamala Harris is the district attorney from San Francisco and former attorney general of California.
5.Art and Culture
Nine Tribal Freedom fighters Museums to be developed by GoI
Nine tribal freedom fighters museums are to be built by Ministry of Tribal Affairs
The museums will be in:
Rajpipla (Gujarat): dedicated to tribal freedom fighters across India
Ranchi (Jharkhand): dedicated to Birsa Munda
Raipur (Chhattisgarh): dedicated to Shaheed Veer Narayan Singh
Lambasingi (Andhra Pradesh): dedicated to Shri Alluri Seetha Ram Raju
Kozhikode (Kerala): dedicated to Thalakkal Chandu
Hyderabad (Telangana): Dedicated to Ramji Gond
Chhindwara (Madhya Pradesh): dedicated to Tantya Bheel, Bheema Nayak and Khajaya Nayak
Senapati (Manipur): dedicated to Rani Gaidinilu
Kelsi (Mizoram)