1) Government Schemes
IOCL signs MoU with IDCO for Pradip Plastic Park
Indian Oil Corporation Limited (IOCL) has signed an MOU with Odisha Industrial Infrastructure Development Corporation (IDCO) to develop Pradip Plastic Park.
Govt. has initiated the cluster development of the industry through its Plastic Park scheme, keeping the enterprise and employment generation potential of the plastic sector in mind.
Currently, six such parks have been approved by the Government of India, with Pradip Plastic Park being one of them.
Quick Fact: The Union Minister of Petroleum & Natural Gas and Steel is Dharmendra Pradhan
2) Government Scheme
Central Govt. launches certification course on 5G for Govt. Officers 
Secretary of Department of Telecommunications, Anshu Prakash has inaugurated an online certification course on 5G Technology for Government Officers.
It is being conducted by National Telecommunications Institute for Policy Research, Innovation, and Training (NTIPRIT).
It is the first-of-its-kind 36 hours (12 weeks) online 5G Certification Course to train and certify Officers of the Government of India.
Quik Fcat: The Union Minister of Telecommunication is Ravi Shankar Prasad
3) Economy
NITI Aayog along with DEA organises workshop on asset monetisation
National Institute for Transforming India (NITI) Aayog, along with the Dept. of Economic Affairs (DEA) has organised the national-level virtual workshop on asset monetisation.
The workshop elaborated on the strategic context of core and non-core asset monetisation, along with a detailed discussion on the need for the modality of such monetisation.
The workshop was chaired by the finance minister and the Chief Secretaries of States and Administrators of Union Territories.
Quick Fact: The Finance Minister of India is Nirmala Sitharaman
4) International Affairs
China to launch e-health certificate for outbound Chinese travelers
Chinese Foreign Minister Wang Yi will be launching the Chinese version of the electronic health certificate.
It will be rolled out for outbound Chinese travelers but it did not say anything for foreigners in China.
It will be available in two formats, digital and on paper, with the certificate holder's NAT and IgG antibody test results and vaccination status.
Quick Fact: The capital of China is Beijing
5) Science and Technology
China inks MoU with Russia to jointly build Lunar Space Station
China has signed a Memorandum of Understanding (MoU) with Russia to jointly construct a lunar space station that will be open to all countries.
The Lunar space station will be known as International Scientific Lunar Station (ISLS).
It will be strengthening research cooperation and promoting the exploration and use of outer space for peaceful purposes in the interest of all mankind.
Quick Fact: The Capital of Russia is Moscow
6) Defense
India-Uzbekistan joint military exercise DUSTLIK II commences in Ranikhet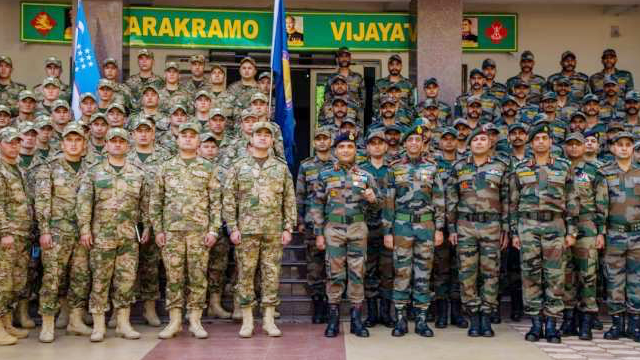 India-Uzbekistan joint military exercise title "DUSTLIK II" has commenced in Ranikhet in Uttrakhand.
This is the 2nd Edition of the annual bilateral joint exercise of both armies, the first edition of the exercise was in Uzbekistan in November 2019
45 soldiers each from Uzbekistan and the Indian Army are participating in the exercise, both contingents will be sharing their expertise and skills in the field of counter-terrorism operations.
Quick Fact: The Defence Minister of India is Rajnath Singh