1.Sports
New Hockey India President: Gyanendro Ningombam from Manipur
Manipur's Gyanendro Ningombam will be the new President of Hockey India.
With this appointment, he shall be replacing Mohd Mushtaque Ahmad.
Hockey India is the governing body which exclusively directs and conducts all men and women's hockey activities in India.
Quick Fact: Hockey India headquarters are located in New Delhi
2.Defence and Security
Indian battalion wins UNIFIL environment award
Indian battalion (INDBATT) stationed with the United Nations Interim Force in Lebanon (UNIFIL) has won an environment award.
The award is for a project for decreasing waste generation, reusing plastic, building greenhouses and compost pits.
Similar awards were won by battalions from Ireland, Indonesia, France and Italy
3.Person in News
Dalai Lama's biography to be released in 2020
The biography is titled 'His Holiness the Fourteenth Dalai Lama: An Illustrated Biography'
It has been written by Tenzin Geyche Tethong, one of Dalai Lama's closest aides and advisor of over 40 years
The book also captured the important historical event where he was forced to flee to India in March 1959.

Quick Fact: The 14th Dalai Lama's name is Tenzin Gyatso
4.Science and Technology
Russia's COVID-19 Vaccine becomes the first to complete human clinical trials
A vaccine developed by Russia's Gamalei Institute of Epidemiology and Microbiology has become the first COVID-19 vaccine globally to have completed its human clinical trials
The study was testing human health status post vaccination
Based on epidemiological results of the trials, the decision to scale production will be taken by the director of the institute.
5.National Affairs
Chhattisgarh High Court conducts India's first state-Level 'E-Lok Adalat'
The E-Lok Adalat was conducted in 195 benches across Chhattisgarh via video conferencing
It was inaugurated by Chief Justice of Chhattisgarh High Court P.R. Ramachandra Menon
The National level Lok Adalat had to be cancelled earlier this year due to the pandemic
6.Environment
Guinness Book of World Records: Fourth Cycle of All India Tiger Estimation 2018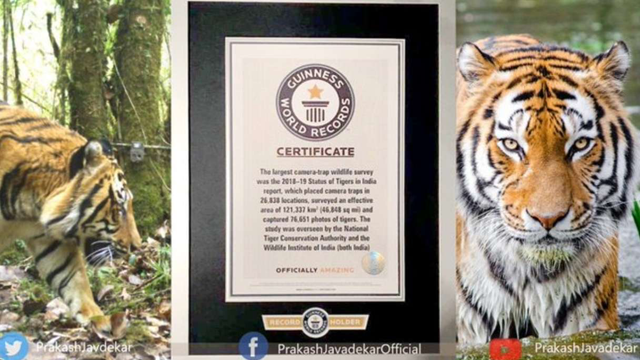 The Fourth Cycle of the All India Tiger Estimation 2018 has entered the Guinness Book of World Records for being the World's Largest Camera Trapping Wildlife Survey
The exercise covered an area of 121,337 square kilometers, used 26,838 camera traps and captured 34,858,623 photographs
The estimation happens every four years in India, since its initiation in 2006

Quick Fact: As per latest estimation figures, India has 2967 tigers, i.e. 75% of the global tiger population