1.National Affairs
India's longest river ropeway inaugurated in Assam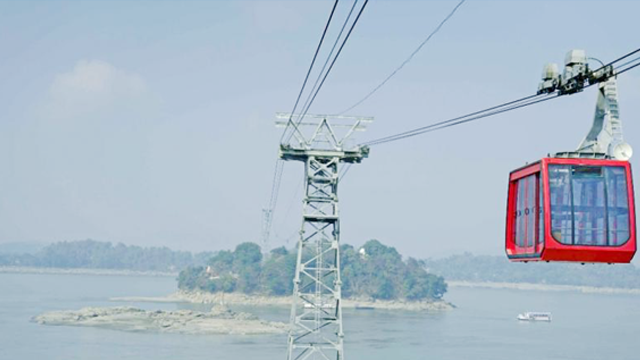 India's ropeway is 1.8 km long and connects Guwahati and North Guwahati over Brahmaputra river
It will:
Shorten the travel time between Guwahati and North Guwahati.
Increase tourism in Guwahati, including the Umananda Temple on Peacock island
2.Economy
ICICI Lombard and Bharti AXA to merge their general insurance businesses
ICICI Lombard General Insurance Company and Bharti AXA General Insurance Company will be merging their businesses
Post merger, they will have an expected market share of 8.7% in the non-life insurance business.
This will make them the third largest non-life insurer in India.
Quick Fact: MD and CEO of Bharti AXA General Insurance is Sanjeev Srinivasan, and that of ICICI Lombard General Insurance is Bhargav Dasgupta.
3.Miscellaneous
New Book Release: One Arranged Murder: Authored by Chetan Bhagat
Chetan Bhagat will be publishing his new book, One Arranged Murder, by end of September 2020
The book narrates the story of a murder mystery in the backdrop of an arranged marriage
This is Chetan Bhagat's ninth novel and eleventh book.
4.Miscellaneous
New Book Release: Gastric Cancer: Authored by Jitendra Singh
Jitendra Singh is the Minister of State for the Ministry of Development of North Eastern Region
He has released a book called Gastric Cancer edited by Dr Ashok K. Vaid
Dr. Ashok K. Vaid is a noted oncologist who received the Padma Shri in 2009
5.Economy
Anand Mahindra and Shantanu Narayen selected for 2020 Leadership Awards by USISPF
Anand Mahindra is the chairperson on Mahindra Group
Shantanu Narayen is Adobe's Chairman and CEO
Both of the above have been selected for the 2020 Leadership Awards by the US-India Strategic Partnership Forum (USISPF)
Quick Fact: This is the third Annual Leadership Summit of USISPF, and has the theme 'US-India Week: Navigating New Challenges'
6.Environment
One Sun, One World, One Grid Project
The project is a trans-national electricity grid supplying solar power project which receives technical assistance from World Bank
The project involves building interconnected solar resources in:
Phase I: cross border energy trade in India's neighbourhood
Phase II: Middle East, South Asia and South East Asia that are inter connected with African power pools
Phase III: Global interconnectedness
The project was ideated by PM of India in 2018 during the International Solar Alliance