1.National Affair
TRIFED signs MoU with IIT, Delhi to implement Unnat Bharat Abhiyan
This agreement will help tribal entrepreneurs working under the Van Dhan programme of TRIFED.
It will allow them to access research works of several institutions that are part of Unnat Bharat Abhiyan.
Under this agreement, tribal people will get access to new processing technologies, mentorship, digital systems, product innovation etc.
Quick Facts: Unnat Bharat Abhiyan is a flagship programme of the Ministry of Human Resource and Development aiming to link a higher education institute with at least 5 villages for their social and economic betterment.
2.Science & Technology
NASA  to launch ASTHROS Mission to study the Cosmos
The ASTHROS Mission will send football stadium sized balloons into the stratosphere to observe wavelengths of invisible light.
The Mission will try to find answers about giant stars and their formation in the Milky Way Galaxy by creating a 3D map of density, motion, and speed of gas clouds from Supernova explosions.
About ASTHROS Mission: ASTHROS is Astrophysics Stratospheric Telescope for High Spectral Resolution Observation as Sub millimetre wavelengths operated by Jet Propulsion Laboratory (JPL) of NASA.
3.Science & Technology
Rajasthan has launched its first "Plasma Bank"
Rajasthan has launched its first Plasma Bank in Jaipur.The Plasma Banks store the blood plasma collected from a COVID-19 recovered patient. It is then transfused into a COVID-19 patient
The first ever national level Plasma Bank was established in Delhi following which Odisha, Kerala and Maharashtra state governments have announced to set up Plasma Banks.
Quick Facts: Plasma is the liquid in which the blood cells i.e. RBCs, WBCs and the platelets are suspended. The plasma is separated from the blood cells through a process known as "centrifugation".
4.International Affairs
Turkmenistan given observer status in World Trade Organization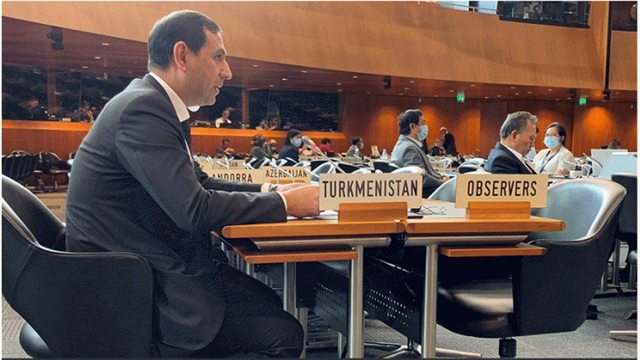 The World Trade Organization (WTO) General Council has granted "Observer" status to the central Asian country Turkmenistan.
This will help Turkmenistan to develop its economy, promote multilateral cooperation, attract foreign investment and develop international trade relations.
Turkmenistan is the last former Soviet republic to establish formal ties with the trade body by becoming the 25th observer of WTO.
Key takeaways: Capital of Turkmenistan: Ashgabat; Currency: Turkmen manat.
5.Defence & Security
Largest Solar Power Plant of Indian Navy Commissioned in Ezhimala
The Plant was commissioned at Indian Naval Academy, Ezhimala by Vice Admiral Anil Kumar Chawla.
The capacity of the plant is 3 MW and it has been set up under Indian Government's initiative of 'National Solar Mission' which aims to achieve 100GW of solar power by 2022. It will have an estimated life of 25 years.
Kerala State Electronics Development Corporation Ltd (KELTRON) has executed this project.
Quick Facts: Chief of Naval Staff: Admiral Karambir Singh.
6.Science & Technology
Smart wristband to tracks Covid-19 patients launched by AIIMS Nagpur
The wristband will help in effective tracking and monitoring of Covid-19 positive and suspected patients by overcoming the limitations of existing online mobile apps used for tracking and monitoring coronavirus patients.
The device has been co created in collaboration with IIT Jodhpur & IIT Nagpur. The devices will operate on a technology that is more effective than the GPS system.
Moreover, the data collected through the wristband will be collected and archived on cloud thereby facilitating monitoring by health workers from a distance.