Sports
Avani Lekhara wins India's first Gold medal at Paralympics 2020
Shooter Aavanu Lekhara has won India's first gold medal in the women's 10m Air Rifle Standing (SH1) event in the 2020 Tokyo Paralympics.
The 19-year-old shooter created a record at the Paralympics by equalling the world record of Ukraine's Iryna Schetnik of 249.6 in 2018.
She is the fourth Indian athlete to win a Paralympic gold following swimmer Murlikant Petkar in 1972, Javelin thrower Devendra Jhajharia in 2004 & 2016, and high jumper Thangavelu Mariyappan in 2016.
Quick Fact: Avani Lekhara has been currently ranked at World No. 5 in the Women's 10m Air Rifle Standing (SH1).
Science and Technology
AYUSH Ministry launches Y-Break App
The Union AYUSH Ministry has launched a Y-Break App from Vigyan Bhawan.
The app was launched by Union AYUSH minister Sarbananda Sonowal.
Apart from the Y-Break App, year-long campaigns like the cultivation of medicinal plants in farmlands, distribution of medicinal plants to households, and sensitizing students on AYUSH systems were launched.
Quick Fact: Program to take medicinal plants to the doorstep of 75 lakh families in the year 2021 is termed 'AyushAapkaDwar'.
Government Schemes
Thematic POSHAN Maah to be celebrated in September 2021
The Union Ministry of Women and Child Development has planned to organize and celebrate Thematic POSHAN Maah in September 2021.
POSHAN Abhiyan is the flagship program of the government of India to improve nutritional outcomes for pregnant women, lactating mothers, children, and adolescent girls.
POSHAN Abhiyaan diverts the attention of the country towards the problem of malnutrition and addresses it in a mission mode by strengthening nutritional content, delivery, and outreach.
Quick Fact: POSHAN stands for "Prime Minister's Overarching Scheme for Holistic Nutrition".
Science and Technology
SpaceX launches ants. avocados, robotic arm to Space station
SpaceX has launched the shipment of ants, avocados, human-sized robotic arms towards the International Space Station.
The mission was SpaceX's 23rd mission for NASA in a decade carrying more than 2,170 kgs of supplies and experiments as well as fresh food like avocados, lemons, and ice cream for the astronauts onboard the station.
The SpaceX Dragon, also known as Dragon 1 or cargo Dragon is a reusable cargo spacecraft.
Quick Fact: SpaceX was founded on 6 May 2002.
Defense
Rajnath Singh commissions indigenously built ICGS 'Vigraha'
Raksha Mantri Rajnath Singh has dedicated to the nation, the indigenously built Coast Guard Ship 'Vigraha' in Chennai, Tamil Nadu.
The 98-meter vessel will be based in Andhra Pradesh's Vishakapatnam (Vizag) and will be operated by a company of 11 officers and 110 sailors.
The ship has been designed and built by Larsen & Toubro Ship Building Ltd. and is the 7th and final ship in the series of Offshore Patrol Vessels (OPVs).
Sports
Max Verstappen wins Belgian Grand Prix 2021
Max Verstappen of the Netherlands from team Red Bull has been declared the winner of the Belgian Grand Prix 2021.
The Belgian Grand Prix was stopped due to rain and only two laps were completed following which the winner was decided based on the progress made in these two laps.
George Russell Williams came second and Lewis Hamilton came third.
National Affairs
Rajnath Singh names Army Sports Institute of Pune as 'Neeraj Chopra Stadium'
The Defense Minister of India, Rajnath Singh visited the Army Sports Institute (ASI), Pune, and renamed it the 'Neeraj Chopra Stadium'.
The Indian Army's 'Mission Olympics' program was launched in 2001 with the intent to deliver medal-winning performances in the Olympics and other international events.
Neeraj Chopra has won a Gold medal for India in the Javelin throw event at the Tokyo Olympics with a throw of 87.58 meters.
Quick Fact: The Athletic Federation of India has decided to celebrate August 7th as the 'Javelin Throw Day' annually in honor of Neeraj Chopra.
Miscellaneous
World's Highest Altitude Movie Theatre in Ladakh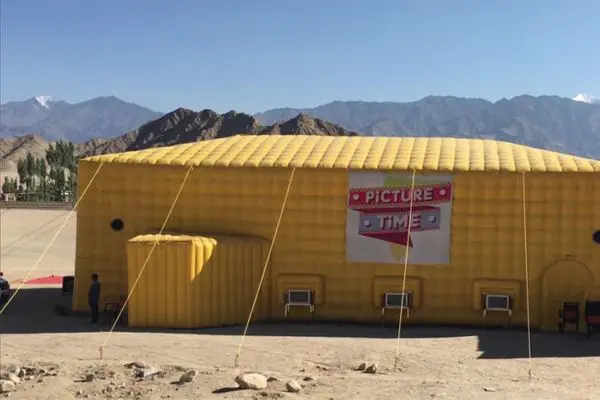 The world's highest movie theatre has recently been inaugurated in Ladakh which has got its first-ever mobile digital movie theatre in the Paldan area at Leh.
The inflatable theatre set up at an altitude of 11,562 feet can operate at -28 degrees Celcius.
The initiative aims to bring cinema watching experience to remotest areas of India and plans to set up four such theatres in Leh in the coming period.
More GK & Current Affairs Resources: