Environment
India achieves new record in ethanol fuel blending
Ethanol is added to fuels like petrol as it helps easy and complete combustion of the fuel and is a renewable fuel.
India aims to achieve 10% blending by 2022.
In this year, it has achieved its highest level of 7.2%.
Quick Fact: The Ethanol Blended Programme was launched in 2003.
Economy
WazirX launched India's first marketplace for NFT
WazirX is one of the leading cryptocurrency exchanges in India.
It has launched a marketplace for auctions of Non-Fungible Tokens.
A non-fungible token is a unit of data on a digital ledger called a blockchain, where each NFT can represent a unique digital item..
Examples of NFT include graphics, videos or music created online.
National Affairs
India completes world's highest bridge
India has constructed the world's highest bridge over Chenab river, with a height of 359 metres..
The bridge is a part of Udhampur-Srinagar-Baramulla rail link project.
It is located in Reasi district of Jammu and Kashmir.
Science and Technology
Ingenuity Helicopter reaches Mars successfully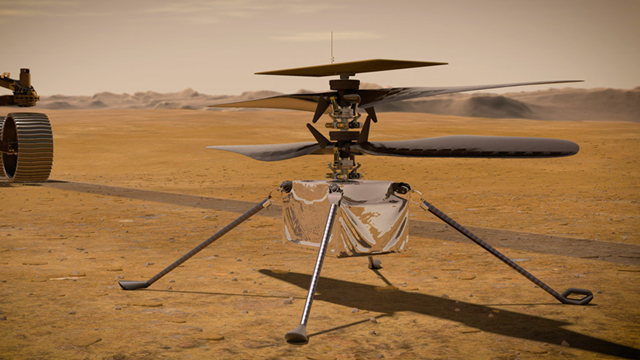 NASA's Ingenuity Helicopter has landed on Mars surface successfully.
It is a technology demonstration of powered flight in another planet.
The main challenge to be overcome by Ingenuity is withstanding the low temperature of the Mars surface.
Quick Fact: NASA headquarters is located in Washington DC, USA.
India and the World
E9 Education Meeting Held
E9 is a group of nine countries created to achieve the goals of the "Education for All" initiative of UNESCO.
India was represented by Minister of State for Education Sanjay Dhotre in this meeting of Education Ministers.
The theme for the meeting was: Scaling up digital learning to accelerate progress towards Sustainable Development Goal 4
Quick Fact: The E9 members are Brazil, Bangladesh, China, Egypt, Indonesia, India, Pakistan, Mexico and Nigeria.
International Affairs
Putin signs legislation to stay in power till 2036
Russian President Vladimir Putin has signed a legislation that will allow him to stay in power till 2036
Originally, Article 81 of the Russian constitution says that the same person cannot hold the office of President more than two terms in a row.
After its amendment, the 'two terms' clause stands true, but 'in a row' has been deleted.
Quick Fact: The term of the President in Russia is 6 years.
Person in News
Justice N V Ramana becomes news Chief Justice of India
Justice N V Ramana has been appointed the new Chief Justice of India
He shall be succeeding CJI Sharad Arvind Bobde.
NV Ramana will be India's 48th CJI.
Quick Fact: The CJI is appointed by the President of India