1.Defence and Security
Indian Coast Guard Vessel commissioned in Kolkata
The Indian Coast guard Vessel named Karnaklata Barua was commissioned at Kolkata.
The commissioning was done via videoconferencing.
The vessel is one among the five Fast Patrol Vessels (FPVs).
The vessels can achieve speeds exceeding 34 knots with an endurance of  1,500 nautical miles or more.
Quick Fact: The vessel was built by Garden Reach Shipbuilders and Engineers (GRSE), Kolkata.
2.Science and Technology
The French Space Agency to participate in ISRO's Venus Mission
The French Space Agency CNES announced it's participation in ISRO's Venus Mission.
ISRO's Venus Mission has been named SHUKRAYAAN.
The mission is to be launched in 2025.
ISRO intends on sending an orbiter mission to Venus in order to study the atmosphere of the planet.
Quick Fact: Venus is the second planet in our solar system and its atmosphere is primarily made up of carbon dioxide.
3.Person in News
Shekhar Kapur appointed as FTII governing council chairman
Renowned filmmaker Shekhar Kapoor has been appointed as FTII governing council chairman
The announcement was made by the Ministry of Information and Broadcasting.
He will also preside over the Film and Television Institute of India (FTII) Society.
Shekhar Kapoor will replace television producer BP Singh.
Quick Fact: FTII stands for Film and Television Institute of India and it is located in Pune.
4.Business and Finance
 To empower small business companies, Yes Bank ties-up with BSE
Yes Bank has signed a Memorandum of Understanding (MoU) with Bombay Stock Exchange (BSE)
The MoU was signed in order to empower the SME segment through awareness and knowledge-sharing programmes.
Under the MoU, both BSE and Yes Bank are to conduct knowledge events for SMEs, export promotion of SME scale companies, and will also provide banking and financial solutions.
Quick Fact: The Chief Executing Officer (CEO of Yes Bank is Prashant Kumar.
5.Business and Finance
IDBI Bank enabled document embedding feature on SFMS
Industrial Development Bank of India (IDBI) becomes the first bank to implement the new feature of document embedding facility on SFMS (Structured Financial Messaging System) with Letter of Credit (LC) / Bank Guarantee (BG) messages.
The process is to be conducted via a middleware application "[email protected] (CSFMS) which was developed by IDBI Intech.
The new feature of "document embedding" will provide the banks with the function of transmitting a "pdf" document up to 1MB size along with the LC / BG messages.
Structured Financial Messaging System (SFMS) is a platform of Indian Financial Technology and Allied Services (IFTAS).
Quick Fact: IFTAS is a wholly-owned subsidiary of Reserve Bank of India (RBI) and its chairman is Taverna Rabi Sankar.
6.National Affairs
PM Narendra Modi inaugurated the 'Atal Tunnel'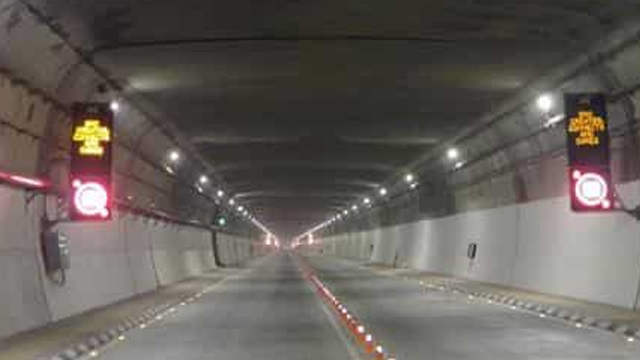 Prime Minister Narendra Modi inaugurated the Atal Tunnel at Rohtang.
It is the longest highway tunnel in the world.
The 9.02-kilometre long tunnel will now connect Manali to Lahaul-Spiti valley.
The tunnel is built in the Pir Panjal range of Himalayas at an altitude of three thousand metres from the Mean Sea Level.
Quick Fact: The tunnel reduces the road distance by 46 kilometres between Manali and Leh.
7.Defence and Security
Laser-guided anti-tank missile test-fired
The indigenously developed Laser Guided Anti Tank Guided Missile, ATGM was successfully test fired by the DRDO.
The test was conducted from MBT Arjun at KK ranges, Armoured Corps Centre and School, Ahmednagar.
ATGM has been developed with multiple-platform launch capability and is currently undergoing technical evaluation trials from 120 mm rifled gun of MBT Arjun.
It employs a tandem HEAT warhead to defeat Explosive Reactive Armour protected armoured vehicles in ranges from 1.5 to 5 kilometres.
Quick Fact: The Laser Guided Missile has been developed by Armament Research and Development Establishment, Pune.