History, Art & Culture
Chitra Bharati Film Festival began at Gujarat University in Ahmedabad
Gujarat Chief Minister Vijay Rupani & Bollywood filmmaker Subhash Ghai jointly inaugurated the three-day Chitra Bharati Film Festival (CBFF) at Gujarat University in Ahmedabad. The aim of this festival is to establish a 'Bharatiya' narrative in Indian cinema. Around 140 films falling under four categories of the short film, documentary, animation and campus films are to be screened at the festival.
2. History, Art & Culture
National Museum hosts 'Historical Gastronomica: The Indus Dining Experience'
The National Museum in New Delhi is hosting an exhibition on India's ancient food history called Historical Gastronomica – The Indus Dining Experience'. The event is based on archaeological research, museum artefacts and their characteristics. and demonstrates the evolution of food habits, food processing techniques and related architecture of the Harappans.
3. Geography
GSI discovers gold deposits of over 3,000 tonnes (actual reserves of 160 Kg) in Sonbhadra district of UP
The Geological Survey of India (GSI) has discovered gold deposits to the tune of around 3,000 tonnes (5 times of India's reserves) in Sonbhadra district of Uttar Pradesh. According to District Mining Officer K.K. Rai, the gold deposits were found in Son Pahadi and Hardi areas.
4. Sports
Drass Red wins 2020 Ladakh Winter Sports Carnival
In Ladakh, Drass Red won 2020 Ladakh Winter Sports Carnival, Junior (Under-18) Ice Hockey and Skating Championship by Defeating Drass Winter Games Association, by 4 -0. The Carnival was organized by Kargil Ice and Snow Sports Club in Collaboration with Letsleh.com.
5. Summits & Conferences
PM Modi inaugurates International Judicial Conference 2020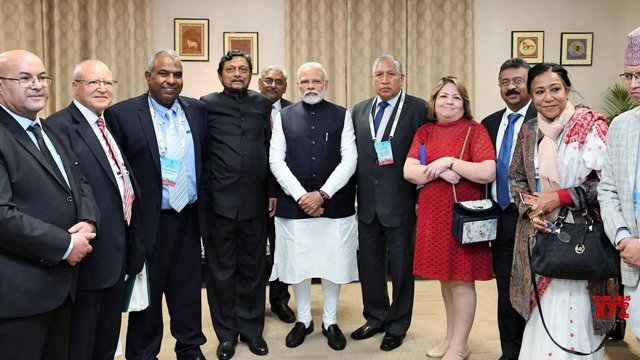 The theme of the International Judicial Conference 2020 is "Judiciary and the changing world". Chief Justice Robert Reed of the Supreme Court of the United Kingdom will deliver a keynote address at the conference. The conference will see the participation of numerous other international legal luminaries from across the world.